Preventative Checks
One of our most important goals at Griffith Dental Lounge is to help our patients keep their teeth for life. The easiest way to reduce the risk of decay, serious infections or disease is with a good preventative dentistry system.
Preventative dentistry is a combined effort. Regular check-ups and proper dental hygiene at home mean that you and your family dentist work together to maintain the health of your teeth. Our experts will assist you in developing a program to maximise these efforts and avoid future complex and costly treatment. Professionals usually recommend a clean and check every six months.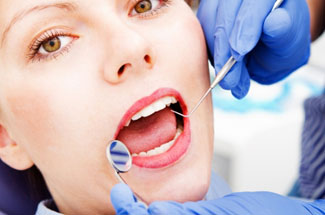 Save Money
Analysis of our patient files over the decades consistently shows that those patients who attend at least annual check-ups have the lowest cost and highest standards over a decade. This is because small areas of decay or gum disease are treated before they lead to root canals, abscesses or teeth requiring extraction.
Don't Put Off Having Regular Check-Ups
If more than six months have passed since you last saw a dentist, contact our office to make an appointment today. A routine examination can help detect any potential problems before they become more serious and time consuming to fix. Call 6964 6667 to make an appointment today.
New Patient Exams
All New Patient Exams at Griffith Dental Lounge are compromised of a comprehensive dental check. We check that your teeth are healthy, your fillings are intact and that there are no decays anywhere in your mouth. Your bone levels are checked and soft tissues for any signs of oral cancer. X-rays may be needed to check for decays or any bone abnormalities.
Analysis of your dental condition also allows us to correctly diagnose any complains you may have and work on them.
Teen Vouchers
We accept Medicare Teen Dental Vouchers. They usually cover teens for a comprehensive exam, clean and fluoride application. X-rays may be done depending on the need.