Single Day Crowns
When it is time to replace your old amalgam silver fillings with a natural-looking, tooth-coloured alternative, you have a choice of composite resin or porcelain. Traditional composite-resin white fillings are most suited to smaller sized cavities.
CEREC® Porcelain Fillings
CEREC® Omnicam 3D and CEREC® AC, both available at Griffith Dental Lounge, are the world's leading systems for fabricating all-ceramic fillings in one single visit. CEREC® restorations are a superior alternative to amalgam (silver) and composite-resin (white) fillings.
The most common use for CEREC® includes replacement of large old amalgam and composite fillings that have failed, fractured or decayed.
CEREC® restorations have many advantages over other conventional fillings. These include:
superior aesthetics – porcelain is far more natural looking than composite-resin (plastic) fillings
superior restoration strength – guaranteeing greater longevity
single-visit ceramic restoration – obviating the need for multiple appointments (benefits include greater time efficiency, no need for multiple local anaesthetics and no need for temporary interim fillings)
conservation of healthy tooth structure – Large CEREC® restorations are an ideal alternative to potentially short-lived composite-resin fillings.
CEREC Porcelain Restorations Step By Step
STEP ONE:
STEP TWO: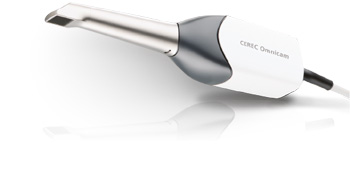 STEP THREE:
STEP FOUR:
STEP FIVE: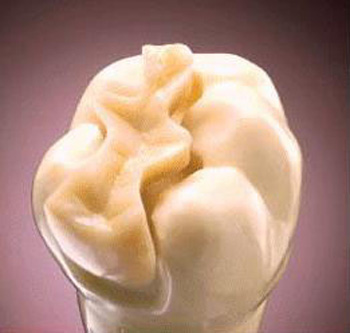 FAQs about CEREC Porcelain Fillings
What is CEREC?
CEREC® is the acronym for Chairside Economical Restoration of Esthetic Ceramics. It enables damaged teeth to be restored economically and in a single appointment using a high-quality ceramic material that matches the natural colour, function and strength of your teeth.
Chairside: The technology is in the dental suite and used while you are in the chair
Economical: The procedure is economical without compromising function or aesthetics
Restorations: The procedure restores your tooth to its natural beauty, function and strength
Esthetic: The restorations are metal-free and tooth-coloured, and replicate your teeth perfectly
Ceramic: High-strength ceramics are used that are close in composition to your natural tooth structure
How does it work?
The CEREC® equipment comprises a digital camera, a medical-grade computer and a milling machine. The system allows the dentist to repair a damaged tooth in less than 2 hours using tooth-coloured ceramic restorations.
CEREC History
CEREC® technology is supported by more than two decades of clinical research and documentation. The restorations have been proven to be precise, safe and effective, with more than eight million performed worldwide to date.
Porcelain Crowns and Veneers
Beautiful Cosmetic dentistry doesn't happen by accident. An experienced clinician sensitive to your expectations and a well-learnt compassionate team work together to achieve the desired results.
Porcelain veneers and crowns may be the solution to your cosmetic and functional needs.
At Griffith Dental Lounge, our cosmetic dentists will tailor your porcelain veneers and crowns to best compliment your expectations, age, gender and surrounding facial features.
Porcelain veneers
Veneers are a thin shell of porcelain that are permanently bonded to the tooth surface. Veneers may be used to improve the position, shade and shape of your teeth and, in turn, the overall aesthetics of your smile.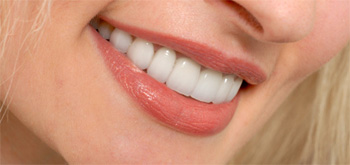 Veneers are a cosmetic alternative for a variety of dental issues, including:
aged veneers needing replacement
crooked teeth
spaces between teeth
broken down or badly chipped teeth
permanently stained or discoloured teeth.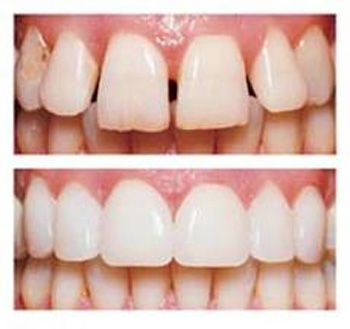 Porcelain veneers can be constructed in-house using our CEREC OmniCam.
Porcelain crowns
A porcelain crown is a cap-like structure that is permanently bonded to a particular tooth to provide superior aesthetics and function. Sometimes crowns are referred to as caps. Porcelain crowns are a very effective way of providing patients with their desired cosmetic result, while at the same time strengthening the tooth structure. A crown fits over the remaining part of a prepared tooth, making it strong and giving it the shape of a natural tooth. Crowns can be used on almost any teeth and, if properly maintained, can last 15+ years.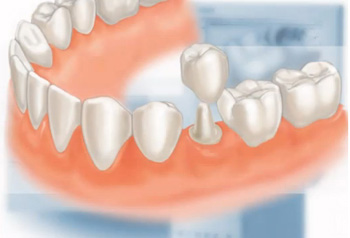 Crowns can be used, both aesthetically and functionally, in restorations with:
heavily repaired or broken teeth
badly discoloured large fillings
protecting the physical integrity of a tooth after a root canal procedure.
How is a crown made?
Porcelain Bridges
All-ceramic bridges replace a missing tooth by way of a porcelain replacement tooth attached to one or two adjacent crowns. The main contraindication for bridges is the removal of healthy tooth tissue of adjacent teeth. For this reason, at Griffith Dental Lounge we recommend dental implants as the ideal alternative to tooth replacement where appropriate. However, bridges remain a viable alternative for patients who are not candidates for dental implants or when replacing existing bridges. Each case must be assessed individually to determine what solution best suits you.