Merry Christmas from Griffith Dental
All our staff are getting pretty excited about our short break over Christmas. We are closing Wednesday 24th December at 1.00pm and look forward to welcoming our patients back on Monday 29th December at 8.30am.
If you require an emergency appointment in between those opening times we will have a message bank operating which will be checked frequently for those in dire straits.
ith Christmas fast approaching, what better time to take extra care of your teeth. We sure have been enjoying the many goodies this festive season bring and you too can still enjoy your share of seasonal sweets while still maintaining a fabulous smile.
These tips will help keep your teeth looking great this holiday season:
– Eating sweets in moderation
Eat a single dessert rather than continuously snacking on sweets throughout the day as this will significantly lower your risk of tooth decay. Make sure to brush after eating sweets also.
– Smartly Snack
It's important to never use your teeth for anything other than chewing, no opening bottles or cracking open nuts with your teeth, this means no cutting ribbon with your teeth when wrapping gifts either.
– Maintain a routine
The festive season can throw out your schedule but you need to continue to maintain daily oral hygiene habits like brushing and flossing without interruption. If you have a busy schedule, try stashing a toothbrush and paste into your bag for when you are on the go.
– Keep your dental appointments
Just because your next 6 month Active Maintenance appointment falls over the festive season doesn't give you an excuse to push it off until next year. It's much better for Dr ElDaly or Dr ElKaddah to spot any signs of oral problems early before they can begin to deteriorate further.
By following a few simple steps this holiday season you too could have a white Christmas with gleaming teeth.
The youngest member of our GDL team Younis likes to show off his pearly whites when he visits us at the surgery. He is pictured here with our sparkly Christmas tree that we put up for the first time this year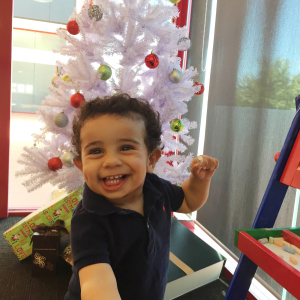 We would like to wish all our valued patients a very Merry Christmas and a prosperous New Year. Thank you for your continued support throughout the year and we look forward to seeing you all in 2015.